A core principle of Finnish education model is to support students' growth as individuals, enhance skills necessary for participating in tomorrow's democratic society and make sustainable choices regardless of your age. This requires knowledge and competences that crosses boundaries and connects different fields of knowledge.
Finnish National Core Curriculum for Basic Education (2014) contains objectives, core content and evaluation criteria of all school subjects. It also introduces seven transversal competencies integrated into all subjects and school activities. These so-called 21st-century skills are tools that can be universally applied to enhance ways of thinking, learning, working and living in the world.
Our blog series will unlock the secrets of 21st century skills: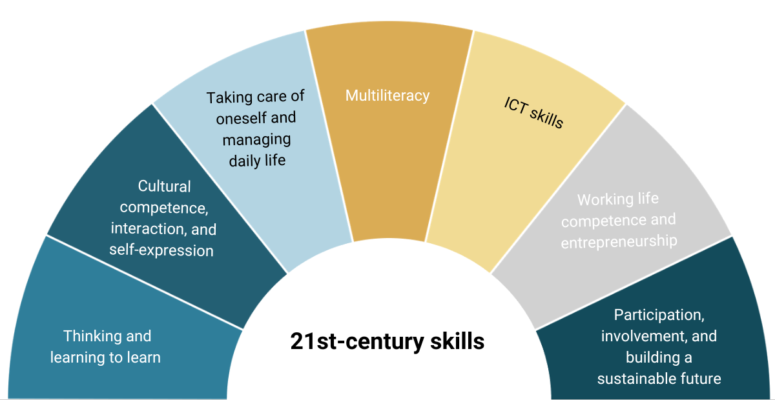 21st century skills – 7. Participation, involvement, and building a sustainable future
Schools have a key role in supporting students in their journey toward responsible citizenship.
To build a sustainable future for the next generation or actually with the next generation, actions need to be taken in schools. By increasing the overall understanding of the local and global environment is the foundation for students to become responsible, active, and aware members of our society. Students must also be able to understand the context for the future is: what has been done, what is happening now, and what path to take?
While in school, the aim is to practice democracy, decision-making, expressing your own opinions and participating to discussion. It's also important to learn how to recognize the significance of your own choices and actions, not for yourself but also consequences to the local environment, society, and nature.
The school is in a unique position to support student participation by creating formal structures and channels through which students can effectively influence their to school community and local environment (e.g., projects, student unions, collaboration with the community). These opportunities give students positive experiences of taking initiative to do something meaningful while rehearsing crucial skills such as teamwork, critical thinking, dialogue, problem-solving, brainstorming, and how to influence other people. Students do not need to participate to political discussion as such, but they can choose the topics which are interesting and meaningful for them e.g. present a petition to purchase a healthy snack vending machine to school.
Building awareness is the basis for involvement
Another aspect is to encourage students to understand and assess the ways their choices affect the environment and society on both local and global levels. By developing students' relationships with nature and community, emphasis on skill development is reaching the goal of aiding students to understand different scenarios for the future and act if they recognize a problem.
For example designing recycle-project in school to increase eco-awareness, or organizing a debate and preparing counterparts for structured discussion about how to solve teenagers' unemployment, are great ways to bring world's problems into practice and increase awareness. By letting students design real-life projects and demonstrate real issues, they will probably make better choices for the benefit of the society and environment.
Students can learn how to influence their environment sustainably and courteously from school sustainability projects, school elections, and competitions. With curiosity, open-mindedness, and an understanding of sustainability principles, students could become active influences and participants in the world of today and tomorrow, generating equality, sustainability, and justice in the future.
This article is part of our series about 21st-century skills, a crucial theme in the future of education. Read about all the other transversal competencies in our blog.