A core principle of Finnish education model is to support students' growth as individuals, enhance skills necessary for participating in tomorrow's democratic society and make sustainable choices regardless of your age. This requires knowledge and competences that crosses boundaries and connects different fields of knowledge.
Finnish National Core Curriculum for Basic Education (2014) contains objectives, core content and evaluation criteria of all school subjects. It also introduces seven transversal competencies integrated into all subjects and school activities. These so-called 21st-century skills are tools that can be universally applied to enhance ways of thinking, learning, working and living in the world.
Our blog series will unlock the secrets of 21st century skills: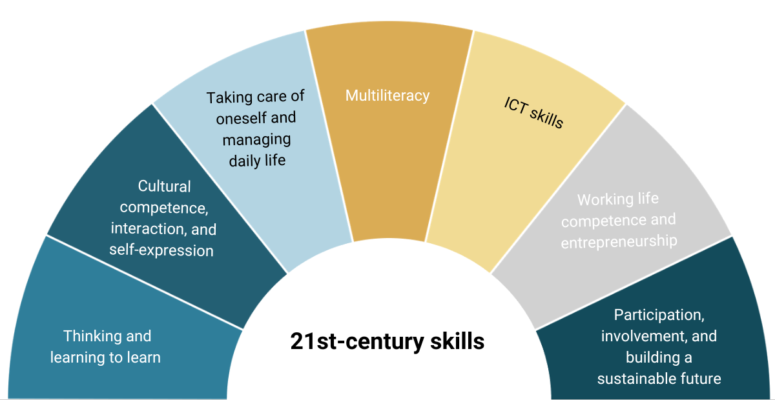 21st-century skills – 4. Multiliteracy
Students should be able to research, apply, edit, communicate, and present data in different mediums and platforms.
When talking about literacy, people usually refer to the ability to read and write. They are not wrong: the traditional definition of literacy encompasses an understanding of visual and printed texts as well as audio, spatial, and gestural connections.
In today's technology-dominated world, the traditional definition is no longer sufficient. 21st-century multiliteracy includes the ability to understand, produce and evaluate linguistic, visual, audio, gestural, spatial, and multimodal communication and information.
Digital natives are not necessarily digitally literate
Students should be guided in becoming multiliterate in all types of content and being able to research, apply, edit, communicate, and present data through a multitude of mediums and platforms. An important part of multiliteracy is to practice source credibility assessment, critical thinking, ethical conduct, influencing, and communication methods that are commonly used in scientific and artistic disciplines.
Multiliteracy develops students' capacity to interpret, produce, make value judgments, and have a comprehensive ability to engage with the world by discovering the contexts and meaning of information around them.
Generation Z is the first social generation to have grown up with access to the internet and portable digital technology from a very young age. They are called "digital natives" even though they are not necessarily digitally literate. They might be competent in using technology for leisure and play but they lack the skills to use it for learning and work. Multiliteracy skills are a crucial part of today's working life with a range of IT tools and software. The ability to use information and communication technologies to find, evaluate, create, and communicate information, require both cognitive and technical skills.
Learning new concepts through practice
Teaching this new skill is not necessarily a long and complicated process that requires time and resource-consuming preparations. Instead, teachers can implement shorter but still efficient lessons. For instance, lessons on financial literacy for younger audiences could be introduced via Monopoly. It allows students to take a break from routine while obtaining financial concepts and management as well as communication and entrepreneurial skills. If taught young, a fiscally wise mind can travel a great distance.
Another example could be a lesson about source credibility assessment – how to tell hoaxes and fake news from real and research-based information and what channels should one use to obtain accurate information. There are loads of recent examples of suitable topics for the task such as presidential elections, the pandemic, or global warming.
So, while teaching multiliteracy, it is good to remember that it is not only about an exact set of knowledge, but about a variety of ways in which students communicate and express themselves. As a part of reskilling and upskilling, digital literacy is a powerful tool in helping to combat future rises in unemployment.
This article is part of our series about 21st-century skills, a crucial theme in the future of education. Read about all the other transversal competencies in our blog.