Many families struggle at the moment, as the spreading of COVID-19 pandemic has resulted in worldwide school and workplace closures. Adults are able to work from home, but children might be left without proper study materials or teacher's support. Schools' resources and ability to engage in distance teaching vary a great deal, which means that some learners are left hanging.
This is by no means an ideal situation for the young learners, who need support and are used to having a certain daily rhythm! The school is now at home and families need to find new ways of coping in this situation. Structured home education can help your child maintain that special daily rhythm, keep connected with their studies, as well as teach them new, inspiring skills. It's important to keep up the routines, keep on learning and make sure your child is all-set when it's time to go back to school!
Building Up Personal Life Skills, While Learning Together
Homeschooling requires some dedication from the parents' side, but there is no doubt it has many special benefits as well. Especially when developing the child's 21 century skills, such as independent thinking, self-sufficiency, ICT-skills and distance learning. These skills can also be learnt at home during homeschooling.
"Learning to learn", efficient team-work and self-assessment play a big role in present-day basic education. From the start, children learn how to manage their daily life, participate actively in projects and self-evaluate their study performance. With the right materials and exercises homeschooling can enhance these skills. The Finnish education with its' main concept of "learning through real-life projects", recognizes many of these important skills children need in the future.
In addition to nurturing your child's independent learning, home education can deepen the family bonds a great deal. As studying becomes a common project, you have a chance to see first-hand the progress and handiwork of your child. Indeed, this is a great opportunity to spend quality time together and become more familiar with the special talents and needs your child might have.
How Can We Help You Today
Polar Partners has come up with a way to assist parents in these challenging times. We offer special online homeschooling materials  for children in primary school grades 1-6, designed by teachers from Finland (here). Your child can continue learning and improve skills in math, science, reading, writing and so on, without being at school.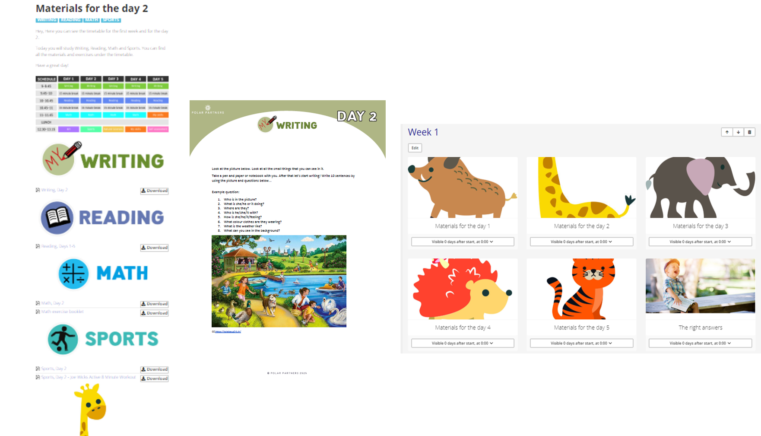 These home education materials follow the most common topics of most curriculum's across the world even though materials are designed by Finnish teachers.  These comprehensive materials provide your child with a detailed daily timetable, online videos, exercises and tons of fun real-life tasks to carry out!
And what's more, we offer an advanced homeschooling program for the learners in grades 5 to 6 – with private online tutoring done by a real Finnish teacher. This personalized and interactive home school package contains all the materials with weekly online meetings with a Finnish primary school teacher. Your child can have the teacher's presence, support and feedback during the weeks. 
Update: Homeschool materials are no longer available.
We wish you a happy and rewarding homeschooling!
Written by Krista Ojanen, Marketing Intern